---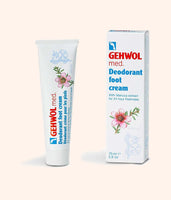 With Manuka extract for 24 hour freshness.
GEHWOL med Deodorant foot cream with its pleasant odour combines
the highly concentrated active substance extract of Manuka oil
with micronised zinc oxide to remove strong foot odour for at least
24 hours in a nourishing cream base with jojoba oil and aloe vera.
The extract, which is being used in foot care for the first time, contains
all active substances of the well-known Manuka oil and is particularly
suitable for foot hygiene due to its excellent effects against bacteria
and fungi. Zinc oxide in its highly effective micronised form is an active
substance that is extremely well proven in the care of sensitive skin,
with antimicrobial and skin protecting properties.
Aloe vera has a bacteriostatic, anti-inflammatory, regenerating and
oisturising effect.
As a natural liquid wax, jojoba oil is rapidly absorbed by the skin.
It contains valuable unsaturated fatty acids and supports the natural
functions of the skin. Regular use of the mildly moisturising cream
gives you odourless feet, softens your skin and protects against
fungal infections.
Dermatologically tested.
Also highly suitable for diabetics.