---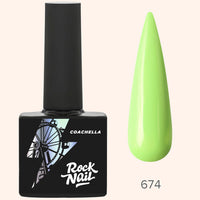 This weekend the valley is alive with cool music and your stunning nail look with juicy lime gel polish!


The Coachella collection is a crazy rainbow of summer shades. Each yoghurt neon is perfectly self-levelling and applies in a single layer. Each is charged with drive and cool mood. Which one will you choose for your explosive nail look?

RockNail gel polish is ideal for both beginners and professionals in the nail industry.
RockNail technologies are...
• architectural formula — comfortable consistency gel polish quickly adheres to the surface and builds the shape of the nail plate without spreading on the cuticle;
• leveling ability - due to the unique texture of the gel polish evenly covers the surface of the nail, filling the bumps and smoothing the imperfections of the nail plate;
• application in one glide - the ideal density of gel polish allows you to apply color without gaps with one brush stroke.
Volume: 10 ml