---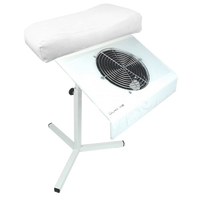 Product Details
One of the most important advantages of this duster is its adjustable from 32 to 60 cm rack height.
⠀
Now pedicure process will be much more comfortable both for you and for your clients.
⠀
Duster is equipped with an industrial fan.
Service time is 50,000 hours, which equals 6 years of non-stop operations.⚡️
⠀
The fan is constructed with rubber seal that prevents dust from getting off the bag.
MAIN CHARACTERISTICS:
Electricity consumption - 40 Watt
Productivity - 344 m3
Noise level - 34 dB

Weight - 1.7 kg
Plastic size - 32*30 cm
3000 rpm
⠀