---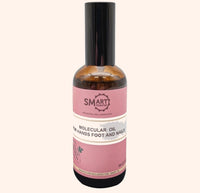 SMART Oil: new Molecular Oil for Face, Body, and Feet care (100ml)
Smart Molecular Oil is a unique cocktail of natural oils and vitamin E. Argan oil is a very effective to moisturize and nourish the skin anywhere: face, body, hands, and feet. Vitamin E heals damaged areas, protects skin cell membranes from excessive oxidation. It slows down aging. Molecular Oil is ideal in combination with professional dry (disk) pedicure in polishing feet. This is truly SPA product to indulge and beautify!  
The effect and impact of pedicure lasts many times longer if Molecular Oil is used regularly. Pleasant fruit aroma will leave you wanting more!
Ingredients: Argania Spinosa kernel oil, Tea Tree oil, olive oil, vitamin E, cyclomethicone, parfum.